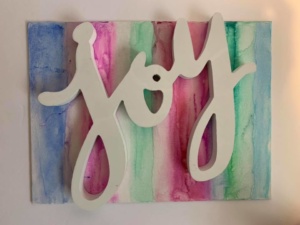 Watercolor a little JOY.  You heard that right.  Everyone needs a little JOY in their life, as well as some fun colors.  With a canvas, some water colors, and an inexpensive wooden J-O-Y, you can let your creativity run wild, creating a decorative piece.
Pro Tip:  Do not give in to FEAR.  Let your imagination lead you.  Out of mistakes can come amazing things.  And if you mess up, it's an opportunity to make it into something else.
Directions found here in this video!
Share with your DIY crafting friends.