Plaid deer ornaments never go out of style.  These rustic wooden ornaments are so easy to make and will be loved throughout the years.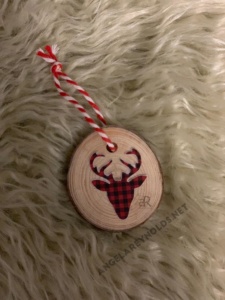 Ensure that your wooden slices are dry and smooth.  You can use recycled wood from fallen trees or buy them here.
Apply a coat of Mod Podge (or similar).  Do NOT let it dry before moving to step 3.
Take your cut out (or sticker) and place it on the wet sealer.  I used my laser printer and Cameo Silhouette to print and cut this design out.  You can access my free SVG file here!  You'll PRINT it and then CUT it.  Christmas scrap booking pieces are a great alternative.
Apply another coat of Mod Podge.  Don't be skimpy here, but don't glob it on either.  Very technical terms here.  LOL
Let it dry.
Attach a cute ribbon or twine for hanging.
Share this post with your friends who would enjoy an easy Christmas DIY!